We celebrated Collin's birthday a few days after returning from Japan. Tough act to follow, so we just kept things very low-key. As for birthday cakes, anything elaborate was out of the question. How could I hope to compete with the kinds of treats we had in Tokyo? I couldn't. Not yet, anyway. And I'm okay with that. Really, I am. Instead, I embraced the simplicity theme and made him lemon bars for his birthday dessert. Why lemon bars, you ask? Oh, I feel a story coming on...
I'm a sucker for grocery store sales - you know the kind where you get an additional discount when you purchase sale items in sets of 10? The kind where, if you do it right, you actually save more than you spend? I kind of get a thrill from those. Anyway, somewhere near the beginning of our marriage, I fell prey to one of these amazing sales and brought home a box of Krusteaz Lemon Bar Mix.
I don't like lemon bars. Not sure why, since I love everything else lemon-flavored. Every few weeks Collin would (half) jokingly remind me that there was a box of lemon bar mix in the pantry waiting to be made, especially when I would complain of a sweet tooth. They never got made while we were in L.A., so we brought the box along when we moved to Utah for a few months. Again, every few weeks that box would become the topic of conversation. Again, it simply languished on the pantry shelf. Just 8 short months after moving to Utah, we found ourselves with an unexpected offer to move to New Zealand for work. It was time to finish all the food in our pantry or else let it go to waste. I took a deep breath and brought out The Box late one night, determined to make my husband happy. As fortune and the FDA would have it, the lemon bar mix had long since expired. What were we doing schlepping that silly thing all over the country, anyway? I'm still not sure, but somewhere in a landfill, there's a sad little box of lemon bar mix that never fulfilled its destiny.
To you, dear box of lemon bar mix, I dedicate these far superior freshly made ones. Oh, and to my darling husband as well. Happy (now belated) birthday, and may all your lemon bars come true!
For the record, I still don't like lemon bars. But Collin loved them.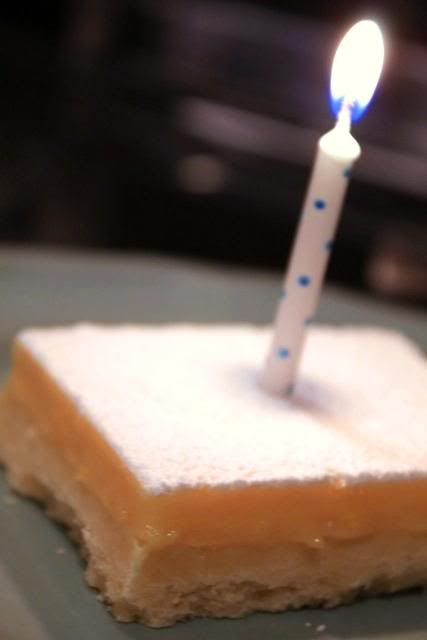 Lemon Bars
from
Rose's Christmas Cookies
, by Rose Levy Beranbaum
Shortbread Base
10 tablespoons unsalted butter, softened (142 grams)
2 tablespoons powdered sugar (14 grams)
2 tablespoons superfine or caster sugar (granulated also works) (25 grams)
1 1/4 cups all-purpose flour (180 grams)
Lemon Curd Topping
4 large egg yolks
3/4 cup sugar (150 grams)
3 fluid ounces freshly squeezed lemon juice (about 2 1/2 large lemons) (90 mL)
4 tablespoons unsalted butter, softened (57 grams)
Pinch of salt
2 teaspoons finely grated lemon zest (4 grams)
2 tablespoons powdered sugar for dusting (14 grams)
Line an 8x8-inch aluminum or glass pan with foil, leaving a 2-inch overhang on two sides.
In a medium bowl, whisk together the sugars. In a large bowl of an electric stand mixer, cream the butter with the sugars until light and fluffy. With your fingers or with the electric mixer, mix in the flour until incorporated. If using the mixer, add the flour in 2 parts.
Place oven rack in the middle of the oven.
Preheat oven to 325°F (300°F if using glass)/160°C (150°C)
Pat the dough into the prepared pan. Use a fork to prick the dough all over.
Bake for about 30 to 40 minutes or until the edges are lightly browned and the top is pale golden (do not brown).
While the shortbread is baking, prepare the Lemon Curd Topping.
LEMON CURD TOPPING
Have a strainer, suspended over a bowl, ready near the range.
In a heavy non-corrodible saucepan, beat the egg yolks and sugar with a wooden spoon until well blended. Stir in the lemon juice, butter, and salt. Cook over medium-low heat, stirring constantly, for about 6 minutes, until thickened and resembling hollandaise sauce, which thickly coats a wooden spoon but is still liquid enough to pour. (A candy thermometer will read 196°F.) The mixture will change from translucent to opaque and begin to take on a yellow color on the back of a wooden spoon. It must not be allowed to boil or it will curdle. (It will steam above 140°F. Whenever steaming occurs, remove the pan briefly from the heat, stirring constantly to prevent boiling.)
When the curd has thickened, pour it at once into the strainer. Press it with the back of a spoon until only the coarse residue remains. Discard the residue. Stir in the lemon zest.
When the shortbread is baked, remove it from the oven, lower the temperature to by 300°F. (275°F if using a glass pan), pour the lemon curd on top of the shortbread, and return it to the oven for 10 minutes.
Cool the lemon bars completely in the pan on a wire rack. Refrigerate the pan for 30 minutes to set the lemon curd completely. Place the powdered sugar in a strainer and tap the strainer with a spoon to sprinkle a thick, even coating, entirely covering the lemon.
Use the foil overhang to lift out the lemon bars onto a cutting surface. Using a long, sharp knife to cut the shortbread into bars, wiping the blade after each cut.
Store:
In an airtight container at room temperature, or in the refrigerator or freezer. Keeps 3 days at room temperature, 3 weeks refrigerated (individually wrapped in plastic wrap to prevent drying), or 3 months frozen.