We spent the past 10 days in Japan, going from one delicious food to the next and catching a few sights in between. We had sushi fresh from the big Tokyo fish market at 6:00AM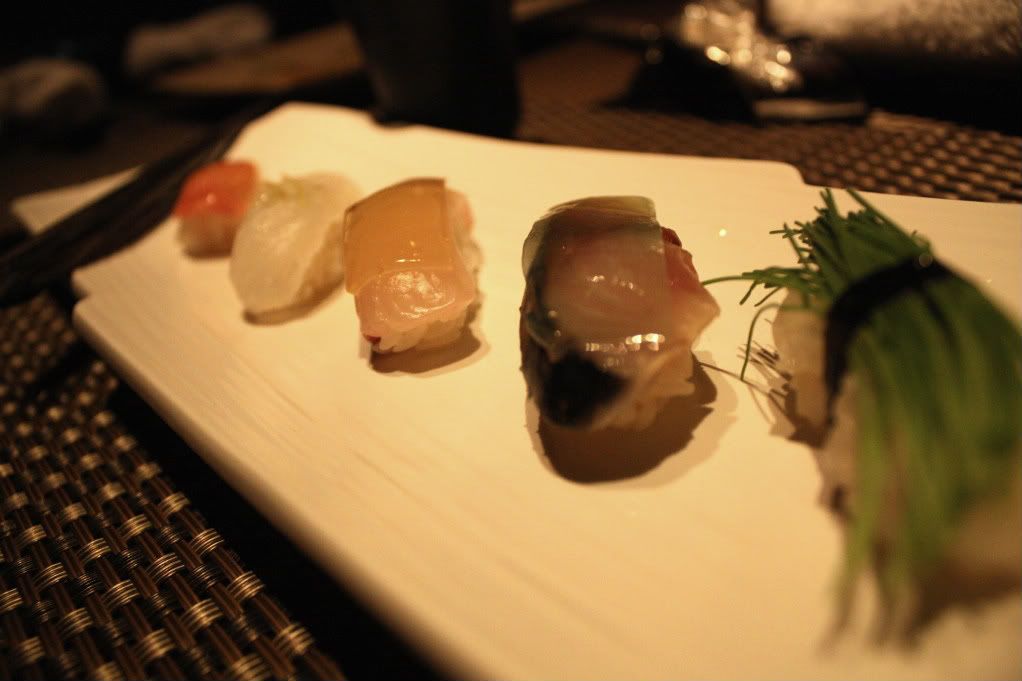 A few treats from Monsieurs Hermé and Ladurée (among others). How I've missed macarons!
We also managed to pick this little baby up in Tokyo. Pretty...
But enough of our gallivanting about the world. This isn't a travel blog! This is about senseless baking! Collin's birthday was on Tuesday. I made him lemon bars (more on that later) and had 5 egg whites left over, begging me to do something with them. Having just consumed an inordinate amount of macarons like the ones above, I didn't feel the need to make my own just yet. Plus, it had been raining on and off all week - very bad news for anything involving a meringue. Then again, there
was
that pavlova that I've been wanting to make for ages, and it wasn't
raining
today,
and it
was
Friday...
Okay, so maybe there was no real good reason for making a pav today, especially given the high likelihood of failure from how humid it was. But you know what? I did it anyway. And you know what? It was
good
! The thin, delicately crisp outer shell yielded to a slightly chewy in-between area that finally gave way to a soft, pillowy marshmallow inside. The whipped cream was only lightly sweetened, so it balanced the sweetness of the meringue beautifully with the sweet-tart fruit. It took three people just a few hours to eat the whole thing, mostly because
we just couldn't stop.
I regret nothing.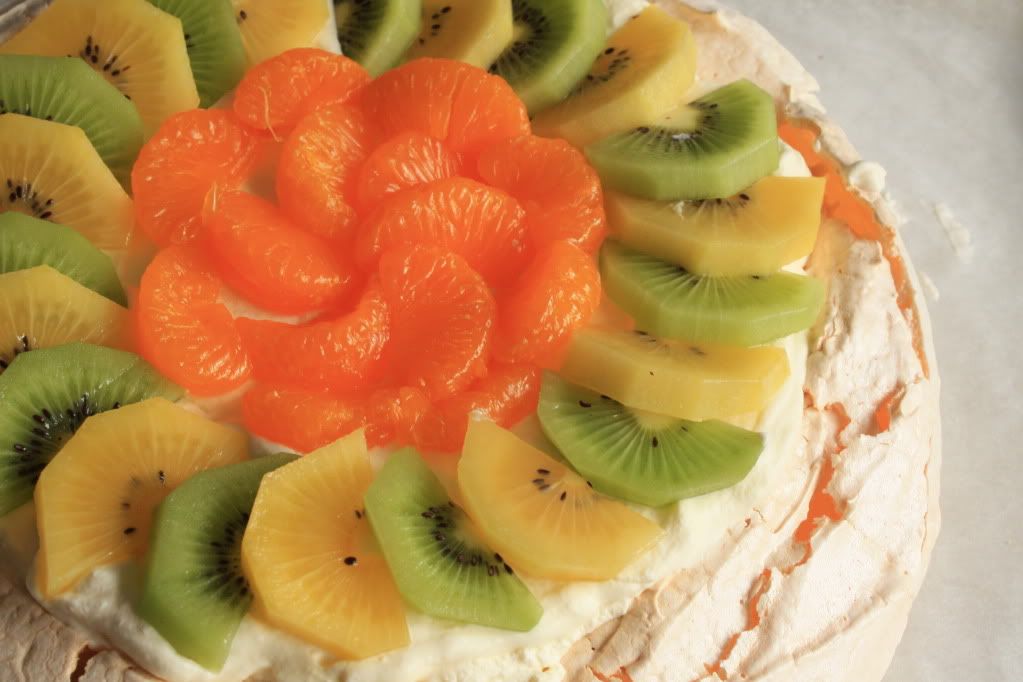 Pavlova
adapted from Gourmet, April 2009
1 cup superfine (caster) granulated sugar
1 tablespoon cornstarch
3 large egg whites, room temperature
3 tablespoons cold water
1 teaspoon distilled white vinegar
1 cup whipping cream
1 tablespoon sugar
2-4 cups fresh fruit (any berry, kiwifruit, mandarins, etc.)
Preheat oven to 300°F (150 C) with rack in middle. Line a large baking sheet with parchment paper.
Whisk together superfine sugar and cornstarch in a small bowl.
Beat whites with a pinch of salt using an electric mixer at medium speed until they hold soft peaks. Add water (the peaks will disappear) and beat until whites again hold soft peaks.
Increase speed to medium-high and beat in sugar mixture 1 tablespoon at a time. After all the sugar has been added, beat 1 minute more.
Add vinegar and beat at high speed until meringue is glossy and holds stiff peaks, about 5 minutes (longer if using hand-held mixer).
Gently spread meringue in a 6-inch (approx.) circle on parchment, making edge of meringue slightly higher than center (the "crater" is for cream and fruit). Bake until meringue is pale golden and has a crust, about 45 minutes. The outside will crack and be solid while the inside will remain marshmallowy.
Turn oven off and prop door open slightly with a wooden spoon. Cool meringue in oven 1 hour.

Beat cream with sugar until it just holds stiff peaks and spoon into meringue. Mound fruit and/or berries on top. Take lots of pictures, because this will likely become a scary mess once you cut into it - enjoy!