So you got this fancy-schmancy food processor for your wedding from a wealthy uncle. Glowing with all the excitement of a newlywed you tear through the packaging, ripping through plastic sleeves and throwing large chunks of styrofoam asunder until you've freed that lovely piece of machinery. Cradling the pristine contraption on your lap, you even bother to read through the instructions cover to cover. Can all those recipes really be made with just one glorious machine? Why yes, the owner's manual tells you, they can.
Fast forward to three years later: Your Cuisinart is sitting on a cabinet shelf by itself, gathering dust. You take it out occasionally when you have 5 pounds of cheese to shred or need to chop large quantities of food. Those owner's manual recipes remain unmade, mostly because you can't be bothered to lug that behemoth out of its resting place more than once a month; it's just too heavy and clunky and takes too much effort to clean. The only time you can justify using it is when you have to
really
use it. Well, dear reader, have I got a recipe for you to

really

use your food processor!



Cabbage and chicken salad, otherwise known as Chinese chicken salad, is something I grew up eating at family pot lucks. Only it wasn't the bastardized version served by the likes of The Cheesecake Factory with heaps of fried vermicelli and mandarin oranges (though I enjoy those as well). It was the authentic dish from Vietnam that my mom made growing up and passed on to me. It was simply green cabbage, shredded chicken, carrots, and green onions, all dressed with fish sauce. I could eat several bowls of that stuff in one sitting, and usually did. But, hypocrite that I am, I'm giving you a slightly different recipe that will likely appeal a little more to the masses. In fact, I've yet to serve this to someone who wasn't pleasantly surprised with the flavor. Don't let the raw cabbage fool you - it's completely delicious and refreshing on a sunny day.

If you are lucky enough to own a food processor, it's a snap to put together. Just use the chopping blade to mince the ginger, garlic, jalepeno, and cilantro together first for the dressing. Then replace the blade with the 2mm slicing disk and go to town with your cabbage. Once the cabbage is done, replace the slicing disk with the fine shredding disk and have at you with the carrots. Now that everything is prepped and your full arsenal of processor attachments exhausted, dump everything in the dishwasher and call it good. If you are relying solely on knives, just make sure to slice everything thinly like you're making cole slaw and embrace the mess that ensues.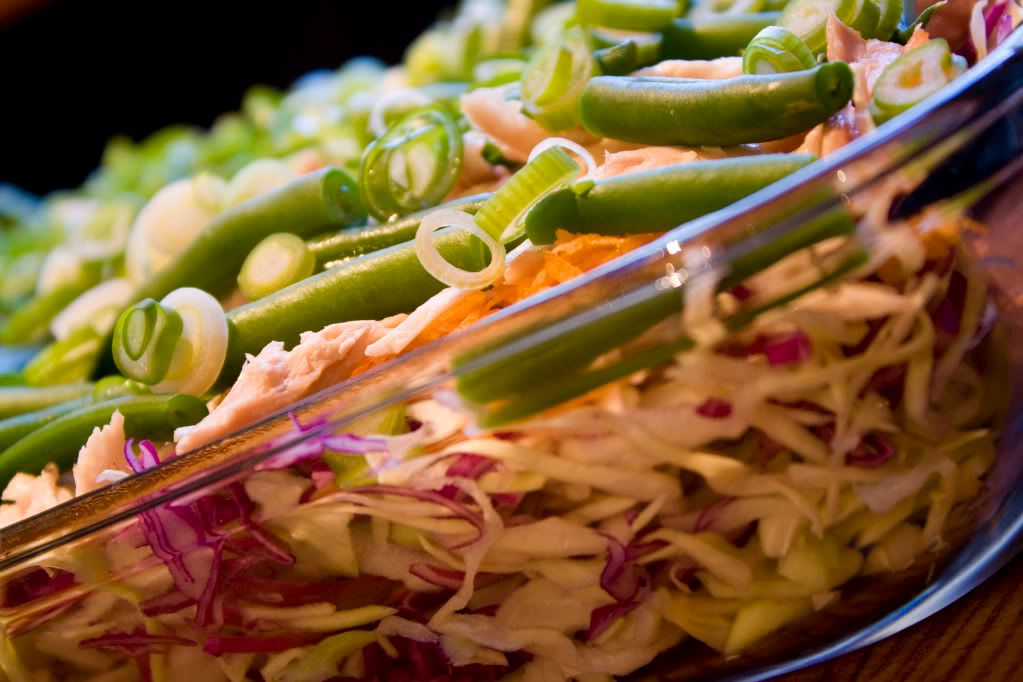 Chicken and Cabbage Salad
Use all green cabbage if you can't be bothered to get red cabbage, too; I just like the extra color.
Serves 6
1/3 cup red wine vinegar
1/4 cup chopped fresh cilantro (coriander)
1/4 cup soy sauce
1 tablespoon fish sauce (nuoc mum)
1 teaspoon chicken bouillon powder
3 tablespoons minced fresh ginger
4 large garlic cloves, minced
2 teaspoons minced jalapeño chili (with seeds), optional
2 teaspoons sesame oil
1 tablespoon sugar
5 cups thinly sliced green cabbage (about 1/2 head)
4 cups thinly sliced red cabbage (about 1/2 head)
3-4 large carrots, finely shredded
1 1/2 pounds (750 gr) cooked shredded chicken
2 cups green beans, trimmed to 1-inch pieces
1 bunch green onions, thinly sliced
Bring a medium saucepan of water to a boil, then add the green beans. Return to boil and cook for 3-4 minutes until beans are crisp-tender. Immediately remove green beans to an ice bath (or just run with lots of cold water. Drain and set aside.
In a bowl, combine the red wine vinegar, soy sauce, fish sauce, bouillon, cilantro, ginger, garlic, jalapeno (if using), sesame oil, sugar, and 1/3 cup of water. Stir dressing until sugar and bouillon are dissolved.
In a large bowl or 9- by 13-inch cake pan, mix the cabbages together, then layer the rest of the ingredients in the following order: carrots, chicken, green beans, green onions. Serve salad with lots of dressing.